Burley Tan
customers are viewing this product
Whether you are a weekend warrior or an avid everyday hiker, the Burley has you covered with full grain leather, high traction outsole, and handsfree functionality.

Customer Reviews
Write a Review
Ask a Question
06/10/2020
William R.
United States
Another great pair of Kizik shoes
The Burley Tan is my 3rd pair of Kizik shoes. I started with the New York Black, then the London Brown and now the Burley. They all are really comfortable! The burley is a great walking shoe. My wife and I try to walk at least two miles every day and the Burley is my go to pair for all our walks.
06/08/2020
Michael M.
United States
Fun and very comfortable shoes.
I have been having fun waterproofing my new Kisik shoes. This is my sixth pair of Kizik shoes.
06/03/2020
Elaine B.
United States
Love these shoes
These are great! After making the adjustments for fit, they really can just slip on and off. Very comfortable to wear. Sizing was correct.
05/16/2020
Milo
United States
2+ months - every day - all day
I bought these shoes about 20 days before the Covid-19 quarantine shut down and headed up North to our cabin. We decided to stay and self quarantine at the cabin and I have worn these every day all day seven days a week and love them. Fence building, post hole digging, frisbee golf, hikes, fishing, quad riding and much more. They have held up well and look a little worse for the wear but are still comfortable. I wish they had a a bit tougher sole so I didn't feel the rocks quite as much when I hike. I've been fighting plantar fasciitis in my left foot and this has actually helped to the point that I don't even think about it anymore.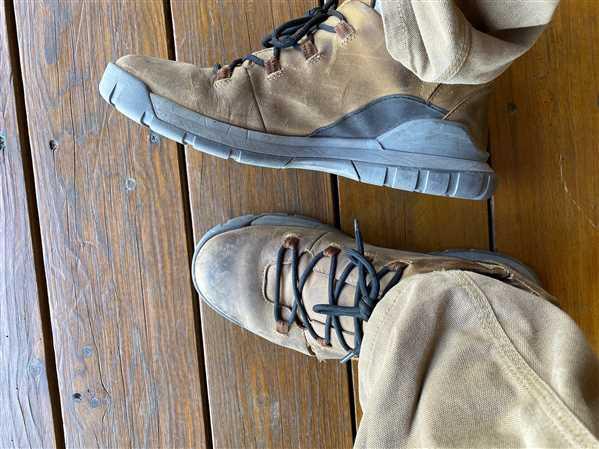 05/15/2020
Jeffrey K.
United States
Great Shoes!
I have hip issues and can't bend over far enough to tie my shoes. My wife has to do it for me. These shoes look great, they're comfortable and don't make my feet sweat. I can put them on and remove them by myself. Thank you.